Eden presents a never-tobe- repeated opportunity to purchase an affordable new home of exceptional quality, taking advantage of the South West Sector's excellent growth potential. Showcasing a diverse range of housing options, including manor and terrace homes, Eden is the perfect environment for your family to grow and thrive through all stages of life. The site is ideally positioned to reap the benefits of the significant ongoing development and infrastructure investment that the area is enjoying.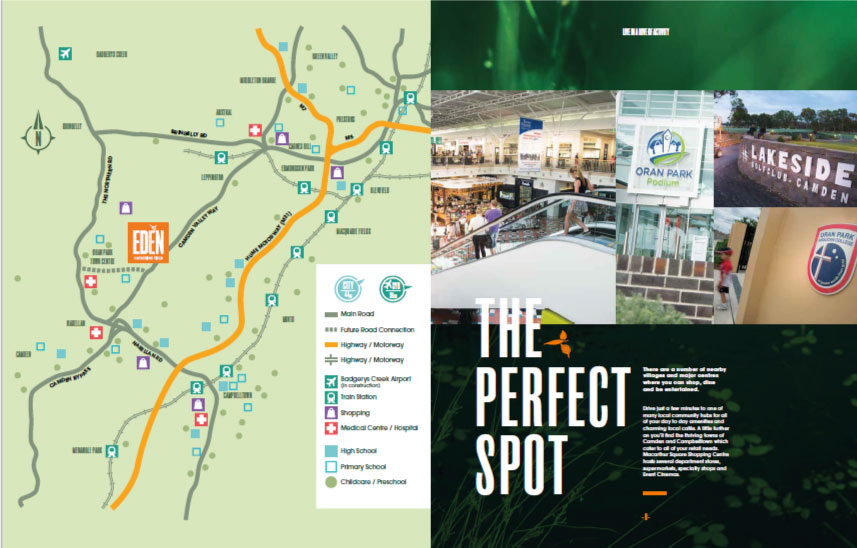 Live the life you and your family have always desired in a peaceful, safe, welcoming environment
A host of wonderful recreational attractions and an abundance of wide open spaces provide plenty of room to play, relax and stay healthy. Indulge your passion for horse riding, enjoy picturesque bushwalks or take your children to the playground. Head to one of many nearby golf courses to perfect your swing, join one of the many local sporting clubs or LIVE THE explore the tranquil waterways.
Eden is wonderfully convenient to all that you need to make life a pleasure
Its location close to the new South West Rail Link station at Leppington as well as the M5 and M7 motorways makes Eden easily accessible from all reaches of Sydney. The second proposed airport at Badgerys Creek is also within an easy drive. Local childcare centres and primary and high schools, both private and public, are highly regarded. For your peace of mind there are also a number of medical centres and hospitals in close proximity.